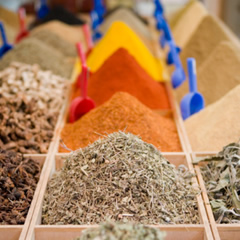 Herbs & Spices
by Page Remick
© Page Remick – All Rights reserved
www.purezing.com
Herbs & Spices not only add great flavour to your food, some can even have higher antioxidant activity than fruits, vegetables and some spices, including garlic. Here are tips for growing and caring for your spices, as well as more information on their health benefits.
Culinary herbs are different from spices. Generally, culinary herbs are fresh or dried leaves while spices are seeds, roots, fruits, flowers, and bark. Culinary herbs usually have a mild flavor while spices tend to have a stronger, pungent flavor.
Partial list of Herbs: basil, bay leaf, chervil, dill, fennel, lavender, marjoram, mint, oregano, parsley, rosemary, sage, savory, tarragon, thyme.
Partial list of Spices: allspice, anise seed, caraway seed, cardamom, cayenne pepper, celery seed, chili powder, cinnamon, cloves, coriander, cumin, curry powder, ginger, mace, mustard, nutmeg, paprika, black pepper, poppy seed, saffron, sesame seed, turmeric.
Herbal Use in Recipes:
Use three times the amount of chopped fresh herbs versus dried herbs called for in a recipe. For example, use 1 tablespoon (3 teaspoons) chopped fresh sage instead of 1 teaspoon dried.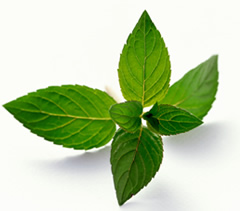 If you have grown your own herbs and want to preserve them at the end of the outdoor growing season for use in winter recipes, try freezing them to preserve more fresh taste, as drying them reduces their flavor.
To learn how to plant an herb garden, click here.
Keeping Fresh Herbs Fresh:
To store most fresh herbs that you purchase in the grocery store, keep them fresh by standing the bunch in a glass with 1 inch of cold water. Secure a plastic bag over the top and refrigerate for up to 10 days, changing the water every 2 days.
How to Cut Herbs:
To gather leaves from your outdoor herbs, cut or pinch down to the next grouping of leaves. For grass-like herbs (chives), cut at the base of the herb.
Strong herbs: Winter savory, rosemary and sage.
Herbs strong enough for accent: Sweet basil, dill, mint, sweet marjoram, tarragon and thyme.
Herbs for blending: Chives, parsley and summer savory.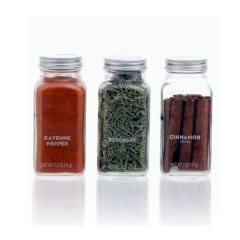 Storage and Flavor of Herbs and Spices
Stored in an airtight container, in a cool, dry place, spices retain their potency longer than you'd think.
4 years for whole spices
2 to 3 years for ground spices
1 to 3 years for leafy herbs, depending on the herb.
Whole peppercorns, nutmegs, and cinnamon sticks hold on to their flavor for ages.
Particularly potent whole spices, such as cloves, cumin, and cardamom will also last for a long, long time.
Ideally, try to purchase spices whole and grind them, as you do not know how long ground spices have been stored in a warehouse or store.
Whole spices will keep the longest, because they have not been cracked or ground, exposing the volatile compounds which make up their flavor to the air. They can last up to four years in an airtight container in a cool, dry place, and will keep even better in the dark

Health Benefits of Herbs and Spices
Researchers say many herbs are only absorbed by the body when they are eaten with fat, so cooking with oil will help release the antioxidants.
Taking herbs and spices as a supplement in pill form will not do much for you because supplements are usually taken with water and your body cannot absorb them that way.
Herbs have higher antioxidant activity than fruits, vegetables and some spices, including garlic. Those with the most antioxidants are, in order, oregano, dill, thyme, rosemary and peppermint.
Some spices have always been known for their help in preserving foods. Recent work has shown that gram-negative and gram-positive bacteria are slowed with the addition of "... garlic, onion, cinnamon, cloves, thyme, sage, and others..." These spices are being found to inhibit the growth of microbes: cinnamon, cloves, mustard, allspice, bay leaf, caraway, coriander, cumin, oregano, rosemary, sage, thyme, and, to a lesser extent, black pepper, red pepper, and ginger.
Uses of Herbs and Spices
Click here for a comprehensive list of Properties and Uses of Herbs and Spices
Click here for a Quick Chart of Uses for Herbs and Spices
Herb and Spice Blends for Use in Cooking